I regularly hold  Cryptic Crossword Solving Beginners & Improvers Workshops at the Ipswich Institute in Suffolk.
Contact the Institute directly.  e: library@ipswichinstitute.org.uk or t: (01473) 253992 to inquire about future courses, or contact me directly at specialisedcrosswords@gmail.com
Wider Talks and Workshops are available from the Crossword setter Encota on…
– 'How to Solve Cryptic Crosswords' and
– 'Problem Solving and Lateral Thinking'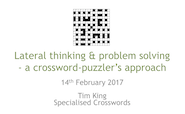 …tailored for all abilities and ages, at a location to suit you.
These can be tailored for businesses, clubs or leisure learning. Do contact me with your requirements.