Home
»
Personalised gifts
Personalised gifts
Great for Birthdays … and Christmas … and …!
Many of us are looking for that unique and thoughtful gift for friends, family or work colleagues. Imagine the surprise and pleasure when they are solving a crossword and they find it is all about them!
Here's a typical example of my most popular. Sarah emailed me interested in a puzzle for her crossword-solving father for Christmas. She sent me some details about David – about his wife, what he drives, his favourite wine, his grandchildren's names and so on – and I created a cryptic crossword puzzle featuring several of those items in the answers and in the clues. I sent the final version to her as an e-mail attachment (in PDF format), along with a separate solution, so she received it quickly and reliably and with no postage costs. She then framed it and presented it to him on the day.
Many different options are possible – I always ask which crossword(s) the recipient normally solves. I then match my clue difficulty to that paper. These are often UK national dailies – the Telegraph, Times, Guardian, FT, Independent for example but by no means always!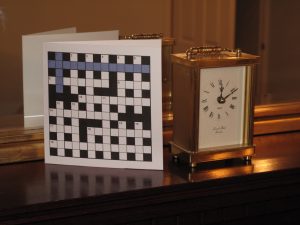 If you like the sound of this – and/or would like something similar but slightly different – then do email me and we can see what is possible!